Description
Fencing gift which is as unique as you are – personalized fencing tumbler with your custom coat of arms.
Let's get creative and create a custom coat of arms for yourself or fencer you love. We have all tree weapons versions for foil, epee and sabre, other historical swords can be also added on request.
You can make a text on the bottom banner completely unique. It could be a saying, club name, fencer name, date to memorize or any other words. The only limitation is the text size, it should fit the banner.
Two spots on the shield allow you to express your non-fencing hobbies, country symbols or professional attributes. Just let us know what would you like to see and we will find or create an image for you. This could be also an initial, like shown on the sample pictures.
Once we put together a coat of arms for you, we will email you a design for approval, so you will see it before it is sent to engraving.
This tumbler is perfect for work or school, but also will keep parents and coaches energized through the competition while keeping their favorite drink cold or hot.
Custom Coat of Arms Fencer Tumbler – Stainless Steel Vacuum Insulated 22oz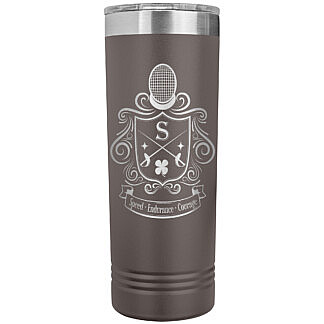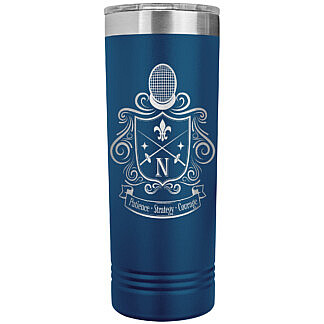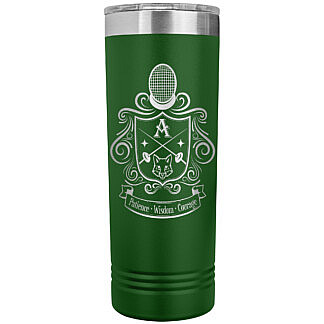 This 22oz (650ml) skinny tumbler with a fencer illustration etched with laser, personalized with your custom text is a great gift for any fencer.
Double-wall stainless steel vacuum insulated construction will keep beverage at the right temperature for much longer than a typical glass or plastic container.
Design is etched with the laser on the tumbler's textured sweat-free coating, so you see bare metal, it's looking really cool and will last for long time.